So 2008 isn't even half way done yet and already this is shaping up to be an amazing year in music. Here are some albums that were released in the last few months that have been ruling my iPod. Go out and buy these records :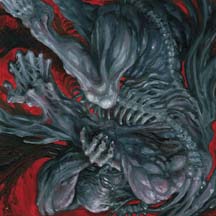 LEVIATHAN
- "Massive Conspiracy Against All Life"
(MORIBUND)
FOALS
- "Antidotes"
(SUP POP)
Pocahaunted
- "Peyote Road" (BUY IT AT
NOT NOT FUN
)
Quinn Walker
- "Laughter's an Asshole / Lion Land"
VOODOO-EROS
Burning Witch
- "Crippled Lucifer" (Reissue)
(SOUTHERN LORD)
MAN MAN
- "Rabbit Habits"
(ANTI)
EARTH
- "The Bees Made Honey In The Lions Skull"
(SOUTHERN LORD)
DEATH IN JUNE
- "The Rule Of Thirds"
(SOLEILMOON)